Illuminate is a new series where I will "illuminate" for you guys ministries that I believe you will benefit from knowing more about. Please be in prayer for the ministries featured. If you realize there is an additional way you can help, feel free to do just that.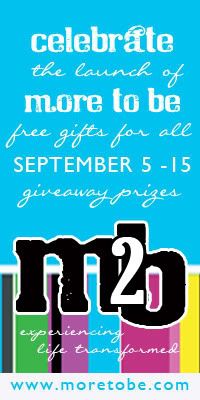 The first ministry Featured here is an awesome discipleship ministry:

More to Be.

You can find them here. Please check out the website. Win prizes by visiting the site September 5-15 for the launch of More to Be. Along with winning prizes, you can peruse their great resources for women wanting to mentor and for girls looking for mentors.
More to Be's founder,
Elisa Pulliam
, writes in her bio,
From every angle, I am passionate about today's women being equipped with the Word so they can impact the next generation with relevant truth.
Equip is exactly what they do. Here are highlights of what you will find at More to Be:
How to Mentor
:
Women tend to fear mentoring.With a long list of excuses, we are sure there is a better candidate for the job. The More to Be team do an excellent job of dispelling our excuses, defining mentoring, and giving us confidence in the gift of sharing our lives with others. Click on the "How to Mentor" link above and learn the beauty of mentoring.
Hot Topic Guides: You now know what mentoring is and you love the concept, but topics have you stumped. Guess What? More to Be has a nifty little link for Hot Topic Guides. Click the link above "Hot Topic Guides" and start collecting topic g
uides.
Mentor/Mom Guides: For a more in depth study, you can purchase guides- Refresh Mentor Guide and Dating Mentor Guide
. These guides are great for moms also. Let's face it, moms make great mentors. Of course, not all situations are conducive for mom to be a mentor. Click the "Mentor/Mom Guides" link above to go more in depth in your mentoring preparation.
Q&A:
Still have questions, or want to read others' questions? Check out the "Q&A" section. That's right, go ahead and click the "Q&A" link above.
ETC (Evening Tea Chat)
:
Aside from the great resources, this is my favorite aspect of the ministry. ETC is an evening of pouring into girls. Invite girls/young women in your home that you believe would benefit from a night of "hanging out" with women (you or yourself with a partner) who are grounded in the Word. Girls need women who will tackle hard topics with them, holding them accountable, and who will be there for them when they need guidance. Click the "ETC (Evening Tea Chat)" above, and it will link you directly to information on the More to Be website.
Blog
:
To keep up with all the exciting happenings at More to Be, visit the blog. You should visit for yourself, of course, but I'll give you a teaser. They will be holding a "31 days of Mentoring Training "starting October 1st on the blog. Exciting! Now, Click the "Blog" link above and explore the great stuff going on at More to Be.
Please visit their website. I've listed here only a few of the neat-o stuff they have to offer on their site- there is information and resources galore. I kid not. Go see!
Pray for this team of ladies as they move forward with this exciting adventure.
In His Name,
Jennifer