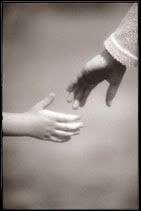 Sometimes I wish God used road signs in our spiritual lives. Then I remember that that would be a relationship without faith and trust, which is really no relationship at all...
Trust is hardest when the way is not clear. In confusion, doubt suffocates what trust we have counted on in the past. I've stood at crossroads of faith and crossroads of decision. Each one shadowed by fear and doubt from a lack of trust.
Trust in the Lord with all your heart, lean not on your own understanding. In all your ways, acknowledge Him and He will make your paths straight. Psalm 3:5-6
With no direction of which way is the right way, fear is an easy decision. But I've always been told not to take the easy way out.
...fear not, for I am with you; be not dismayed, for I am your God; I will strengthen you, I will help you, I will uphold you with my righteous right hand. Isaiah 41:10
Where do you put your trust is the question my heart must answer.
We develop an intimacy we might not know otherwise, when the roads aren't clear and there are no signs pointing us in the right direction.
Like any solid relationship, our relationship with God must involve faith and trust to be healthy.
And without faith it is impossible to please him, for whoever would draw near to God must believe that he exists and that he rewards those who seek him. Hebrews 11:6
Our faith lies in the fact that we believe He is trustworthy.
...I believe. Help my unbelief. Mark 9:24
I'm struggling with this area of faith at this point in my life. I don't doubt His love, but I think I doubt the level of His love.
Is He trustworthy? Without a hint of doubt, I can tell you He is one hundred percent trustworthy. But He is still God with a plan, and often I fear His plan is not my plan.
In His heart, a man plans his course, but the Lord determines his steps. Proverbs 16:9
Trust Him. Psalm 23.
In His Name,
Jennifer